"Nature gives you the face you have at twenty; life shapes the face you have at thirty; but at fifty, you get the face you deserve." Coco Chanel
Skin health has been a life long passion of mine.
I've learnt most of the fundamentals from my mum. I believe everyone's skin intelligence starts at home by observing the beauty habits of the women in their life.
Genuine passion helps a lot but I guess nothing substitutes experience and my experience within the spa industry is extensive and so is my knowledge on treatments and skincare.
Generally I've a holistic approach to skin as it's a mirror of one's internal system.
I believe wellbeing is the key to good looks.
Ingredients matter….and quality ingredients matter the most.
Your skin is smart. It doesn't need much. Consistancy is the key.
My areas of interest include (but not limited to) skincare and nutrition so I'll be blogging a lot about that. I'd only write about things I genuinely like and have put to the test. I can't be bribed...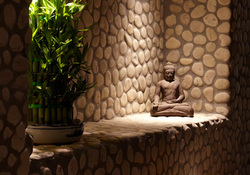 London Spa Girl x